These boots were made for marching
Students, staff join thousands of women, men and children around the U.S. participate in protest marches
On Jan. 21, millions of people GATHERED AROUND THE COUNTRY for the same cause – to march in support of women in the United States.
According to politicususa, it was the largest protest in American history with an estimate of 2.9 million marchers from cities all over.  
Senior Kamryn Cain attended the protest march in Kansas City, where the turnout exceeded many people's expectations, but not Cain's due to the results she had seen at other marches.
"I wasn't surprised in the outcome," Cain said. "I'd already seen the footage of the others around the world but when we got there they started speaking and they said they had only expected about 500 and close to 10,000 showed up, so I'm sure they were surprised."
Unlike Cain, junior Danielle Dodd, who also attended the march, was shocked in the similarity of beliefs leading to protests all over the country and proud of it.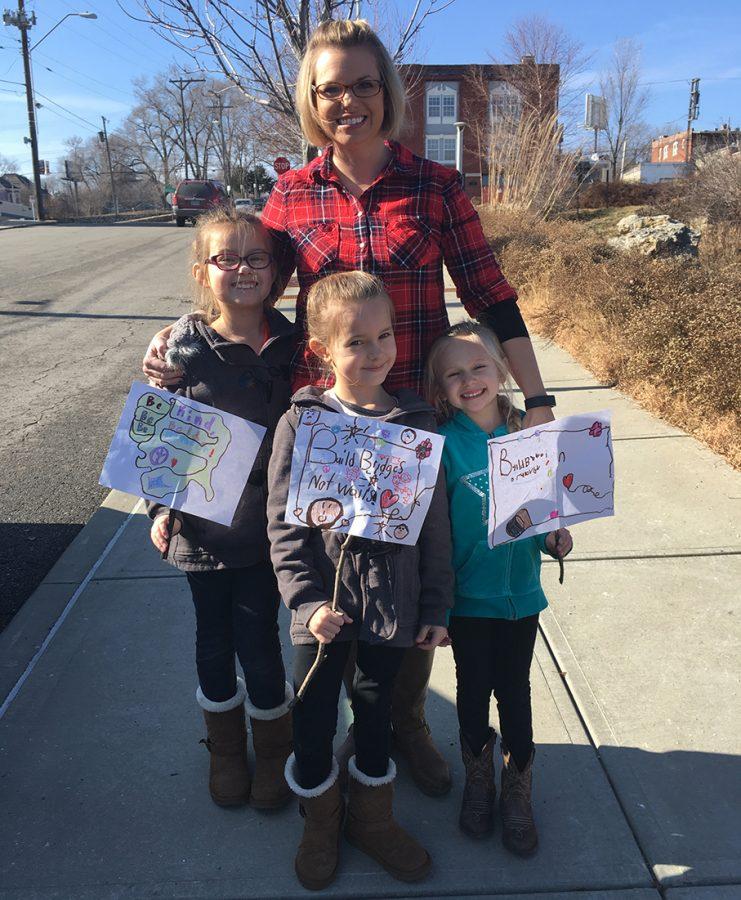 "I didn't realize how large it was across the world until I got home and then I was overwhelmed by pride," Dodd said. "People everywhere turned out to oppose discrimination and fascism and support those who will be hurt in upcoming months by policy and actions by the current [presidential] administration."
While the occasion was labeled a protest, Cain feels the environment and attitude of others gave the feeling of safe place to share their opinions and beliefs.
"It was a protest but it didn't really feel like one," Cain said. "It was really just a bunch of people that came together to talk about the same things and have their standpoints hear. Now it makes it [issues] valid since other people are worried about it, too. I think it accomplished something because it makes others feel at home or at least a place where they can speak"
Dodd also feels the protest was nonviolent, despite other people attempting to anger them, the marchers veered from stereotypical protesters often associated with violence.
"The way protesters interacted with police was very interesting. I saw people walking up to cops and saying thanks for being there and whatnot," Dodd said. "There was a very small pro-life group, about eight people, just outside of where the rally was held. They were there for obvious reasons- this is a political tactic to get people mad to go yell in their face and then they have video of pro-choicers being "savages" or whatever. Instead that day, everyone was chill. The people of the rally just walked by and ignored them. That made me very proud of all the people I stood with that day."
According to Dodd, protesting is a powerful outlet for expressing her mind and opinions about her freedom and right as an American citizen.
"I march because someone has to," Dodd said. "The things President Trump and his party say and do to marginalized people is unacceptable and cannot be met without opposition. If I do not take action and speak out, then doing so later becomes less and less likely, until I live as a blind deaf mute."
From a teacher's perspective, English teacher Sara Cushenbery-Andrews has seen the effect policies have had on various students.
"As a teacher, I have seen the negative impacts on my students of the isolationist, nationalistic, anti-Muslim, anti-Mexican, anti-immigrant, anti-LGBTQA, anti-social services messages that have been coming from the new President," Cushenbery-Andrews said. "Our students and our citizens deserve to feel safe and a part of our country without being singled out and scapegoated. The march was a way to highlight support for these communities."
Cushenbery-Andrews feel it is important to expose her children to politics so they are involved in their country from a young age.
"I also wanted my daughters to fully experience the democratic process," Cushenbery-Andrews said. "They watched the primary and presidential debates, parts of both the Republican and Democratic National Convention speeches, went with me to vote and helped to bubble in the candidate that we decided on, stayed up to watch the election, and experienced much sadness after the results. They felt that there was nothing they could do so this march was a way for them to see democracy in action. Yes, our girl may not have won but we can still have a voice in the direction our country takes."
Cain's participation in the march was influenced by the satisfaction of doing her duty as a teenage American in this generation and she is grateful to have experienced such an event.
"A lot of the reason I went was because I wanted to feel like I have done something since I couldn't vote and as a generation, we haven't really had the chance to do anything big yet," Cain said. "It's something I'm passionate about. If I hadn't gone I would have wished I would have gone later in life."
[CLICK DIAGRAM BELOW TO SEE FULL SIZE STORY MAP.]
Leave a Comment