Interim principal appointed after principal is arrested
Matt Lindsey charged with two counts of statutory rape
Students and staff met their new interim principal, Mark Maus, today after long-time principal Matt Lindsey was arrested yesterday and charged with two counts of statutory rape.
North Kansas City School District Superintendent Dr. Daniel Clemens introduced Maus at an early morning staff meeting Jan. 12 where he expressed concern and support for the staff and students. Maus is the Executive Director of Human Resources for the district but had served as principal of Oak Park High School for several years.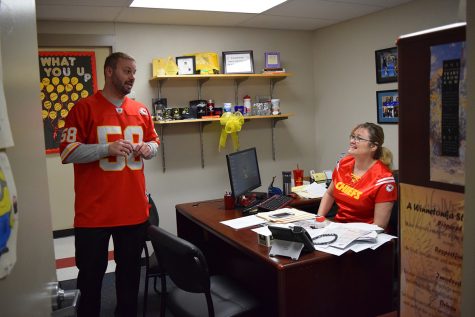 "Basically after we heard the news we looked at who would be the best and who had a calming influence and [Maus] has had such success at Oak Park that he just seemed like the best candidate," District Spokesperson and Executive Director of Organizational Development Rochel Daniels said.
Lindsey was arrested at North Kansas City School District's Central Office Jan. 11 for allegedly engaging in 20 sexual encounters from 1997-1998 with a 16-year-old junior who was on Richmond High School's cheerleading team while he was employed as a vice principal and basketball coach at the same school, according to the affidavit. The statute of limitations in this case gives 30 years after the victim turns 18 to report a rape.
Ray County, Missouri Prosecutor Camille Johnston has charged Lindsey with two counts of statutory rape. He is now being held in the Clay County jail with a $50,000 cash bond set.
Lindsey was in the middle of his tenth year as Winnetonka's principal. He was a board member of the National Board of Principals and was named the Principal of the Year by the Greater Kansas City Missouri's Principal Association in 2015.
Within a few hours of Lindsey's arrest, the North Kansas City School District issued an official statement.
Today, we were made aware of charges filed against Mr. Matt Lindsey relating to actions that allegedly occurred in 1997 or 1998, prior to his employment with North Kansas City Schools. He has been placed on administrative leave and will not be returning to campus at this time. Please know that the district takes all reports of alleged wrongdoing very seriously. We will cooperate fully throughout any investigation. These situations are always difficult. We pledge to keep you informed of what we can, when we can. Regardless of the situation, the safety and security of students are our top priorities.
Additionally, Daniels said that the district is cooperating fully with the police and that they cannot confirm or deny any details about the case.
"We are only allowed to say that this is a personnel matter and that we can't speak further on the issue," Daniels said. "We are pledging to keep people updated and tell people everything we can. We know that in this day of social media things come out very quickly, so we want to be able to give everybody the information we have in a timely manner so that people aren't surprised by anything in the press. The things that Mr. Lindsey has been accused of are alleged and we are not going to make any judgments about that. We will leave that up to the courts."
Later that evening, Maus was appointed as interim principal for the foreseeable future, according to Daniels. Having worked within the district for 13 years, Winnetonka is not new to the father of three, whose wife works as a special education teacher also within the district.
"From the day I first student-taught at Eastgate, Tonka has had such incredible pride and a very strong community culture," Maus said. "I'm getting a feel of where we are at, and working with other staff to determine what to do moving forward. The same way that students go into class every day, I have a lot to learn, but I'm proud to wear red and gold."
Although there have been changes in the administration, Daniel is adamant the level of education provided to students will not change.
"It's changed nothing for Tonka students," Daniels said. "This is a school where students can be completely proud of who they are. They have incredible teachers and staff. For students, I don't think this is a hiccup in the road at all because it doesn't change the quality of education provided to them."
Clemens and the rest of the district staff implemented plans to try to ensure that all student, staff, and parent needs are met.
"We provided extra substitutes so that if a teacher needed a break or some time they could have that," Daniels said. "We had extra counselors on site so that anybody, staff or students, could have that option. We also hosted a free lunch which was just an outpouring of 'we want to help in any way that we can.' We wanted to show the support for all of Winnetonka."
English teacher Melissa Camarda, who attended the free luncheon, thought that it and the other measures that were taken by the district showed that they are thoughtful of the situation.
"I was really happy that there were so many district representatives here," Camarda said. "It showed that the district knew that it was going to be difficult and they still wanted to be here with us to support us."
In the wake of the charges filed against Lindsey, many students and staff are asking for the school to show its pride.
"So many amazing things happen at Winnetonka every day: I witness them first hand all of the time," junior Rana Ekilah said. "I hope that people realize that the actions of [one person] in no way is a symbol or image of all Griffins. And if they don't, it's our responsibility as Griffins to stand up against the criticism with Tonka pride and prove to others that we are different. We are great. We are strong."
Junior Audrey Thompson also believes that the alleged actions of one person do not represent the whole of Winnetonka.
"It's really disappointing that when you Google Winnetonka, he's [Lindsey is] the only thing that pops up," Thompson said. "Even though it was our principal, even though he was the face of Tonka, he is not an accurate representation of what our school is. You shouldn't underestimate us just because we have a few bad cases. The majority of us are hardworking, we're proud, and we're not going to be deterred by one man's decision. We're still Tonka. Red and gold."
Senior Serina Middaugh believes that it is most important to remain positive at this time.
"I just think we need to keep in mind the good he has done versus the accusations that have been made," Middaugh said. "Focus on what he's done good for us instead of what's happening to him now. We need to remember what improvements have been made under his administration. He has done wonders for us and this school and rather than thinking of the negative things we should think of the positive."
Regardless of innocence or guilt, teachers at Tonka rallied and focused on students today. Math teacher Vickie McGiffin organized a spirit wear day, asking for all staff to wear their Winnetonka apparel as a show of support and pride for the students.
"It was a really sad day," McGiffin said. "But there are great things that are happening here at Tonka, and I think one of the best things is how teachers feel about their students. We wanted to show that. You [students] are all worth so much, even in the midst of turmoil or in the midst of the sad days that we are going through right now. Especially today what I want [students] to know is that there will be turmoil, but what happens at Winnetonka, this Griffin Nation, this Griffin Nation, is bigger than one person, is bigger than one incident, and there is an excellence here that will overcome even this."
Click here to read about the process of searching for a new permanent principal.