Warming the holidays
The Christmas tree in the main office serves as more than just a decoration.
During the month of November, the tree was used for a service project called "the Tree of Warmth; Sock it to Me."
The idea stemmed from a project that advisory classes used to participate in five years ago and has continued ever since.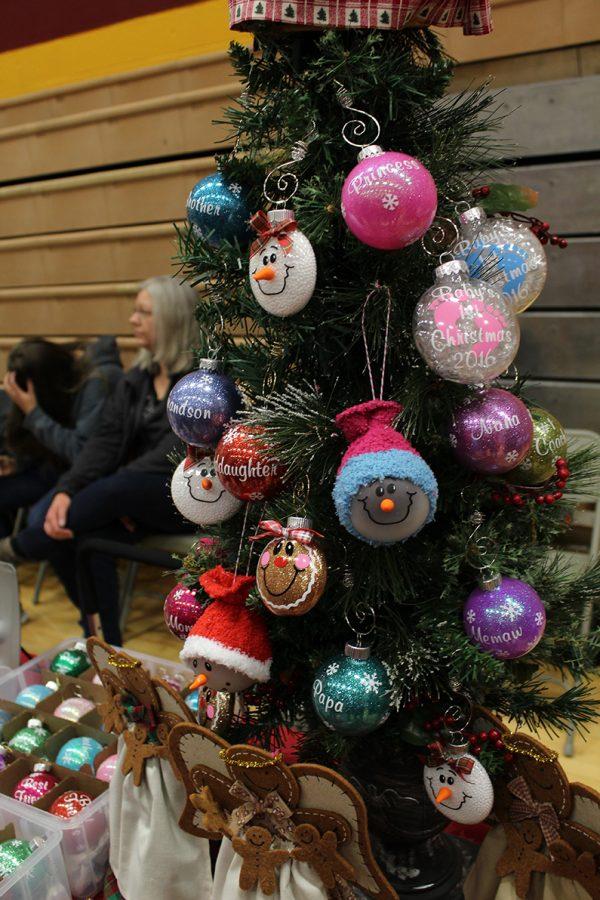 "We had what we called the possibilites project, so every advisory class did a project to help the school, help the community, help the world. As secretaries, we don't have an advisory class so we came up with the Tree of Warmth," data coordinator Pamela Wiltfong said. "We just put up the Christmas tree in the month of November and we asked for hats, scarves, socks and gloves."
"Sock it to Me," was the first time a theme was incorporated with the Tree of Warmth and was done to put a focus on a need for socks.
"This year, we still had plenty of hats and gloves from previous years so I said 'what about socks?' because we don't always get a lot of socks so this time we did the theme 'Sock it to Me,'" Wiltfong said.
With help from students and staff, according to Wiltfong, the Tree of Warmth was successful.
"One of our teachers works part time at Dick's [Sporting Goods], every weekend he got out of the clearance bin a bundle of socks and brought them in," Wiltfong said.
The Tree of Warmth collected 27 hats, 54 pairs of socks for boys, 38 pairs of socks for girls, 10 pairs of gloves and three scarves. These items will then go back to students who are in need at Tonka and the items that are leftover will go to feeder schools.
"I've always had a roof over my head. I've always had food in my belly," Wiltfong said. "I hope the impact lets the kids know that we love them and their own school cares about them."
The children in the nursery have already received a couple of items from the Tree of Warmth.
"April, the clerk in the nurse's office, her aunt likes to crochet and she has been crocheting beautiful hats and scarves for little babies," Wiltfong said. "Each year our nursery gets to come up and each of those kids get a new hat and scarf that she has made."
Wiltfong hopes the Tree of Warmth will promote a positive attitude and more acts of kindness in an effort to let students know that the school cares about them.
"We're a family, we may or may not like each other everyday, but we care about each other," Wiltfong said. "We care about you, we are going to get you fed, we are going to get you clean socks."