Tumbling into second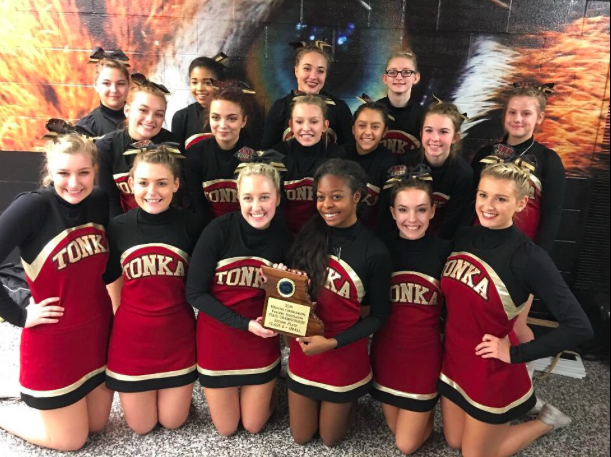 Due to the cheer team's determination and hard work, they were able to place runner-up at the state competition on Nov. 5 at the Hearnes Center in Columbia, Mo.
From cheering at football games to cheering about school spirit, the cheer team has had to transition into competition cheer.
"There's a huge difference," senior Susan Dakorson said. "Cheering at football games is just getting spirit, cheering on your team. Competition is more competitive. It's more crazy stunts and out of breath routine, pushing yourself the whole time to get through it."
The drive within the cheer team helped them reach their desired goal to place well at state.
"We had more practices. We really had to push ourselves because we were all getting irritated at each other," sophomore Makenzie Jackson said. "We just had to stay together as a team and push each other."
Dakorson believes that co-captain senior Zoe Goss helped to isolate the mistakes to improve the team's routine.
"Zoe is very encouraging and they [coaches] just motivate us to keep on trying and pick out the wrong things that we are doing to make us a better team," Dakorson said.
The team worked hard to perfect their routine and cheers over the summer.
"We have gotten so much better with our stunts and jumps since we started our season back in April," head coach Amber Stichler said.
All of the girls came together throughout the year to create team chemistry.
"Our bond was already strong," Dakorson said. "We were a pretty close team. We're like a really goofy team. I felt we always had a bond together."
All the hard work that the team put in was worth it after hearing the results of state.
"It was such a great feeling to know that all of the hard work actually went to something and wasn't just pointless," Jackson said.
One of the keys to the girls' success was the work they put in during their practices.
"I think they were able to accomplish this by working hard and focusing on what they needed to do on the floor," Stichler said.
The dedication of the whole cheer team has been shown throughout the season.
"It felt really good," Dakorson said. "It felt like all that hard work we have been through really paid off and I'm so proud of my cheer team."