Bleeding Red and Gold
On Nov. 9, students and staff donated 49 units of blood during the blood drive, hosted by student council.
Although there was a decrease in the amount of blood donated compared to the blood drive last spring, student council teacher Bradley Anderson said there were many new donors.
"It's just there were a lot of first-time donors which take a lot more time," Anderson said. "They had 33 first-time donors, which is pretty awesome to have. So next time they go, it should be a little quicker. Hopefully we can get a lot more people in."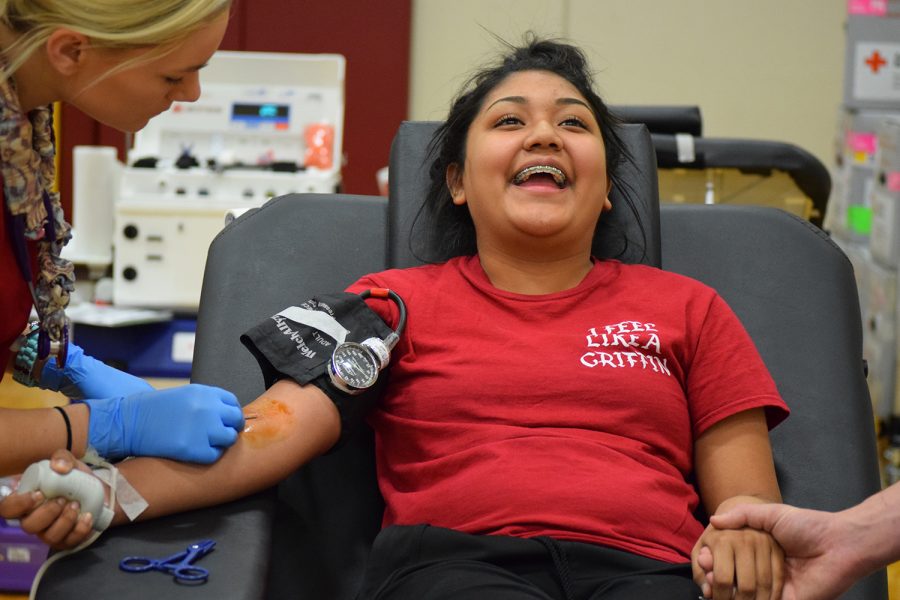 Students said that they donated blood in order to help the people who need it.
"With the blood they took out of me, they could save three other people," junior Hannah Hernandez said.
Donating blood is worth the time, according to junior Allison Scales.
"I think it's pretty cool that just donating one time is actually going to help a lot of people and just doing something for an hour and a half is going to help somebody for hopefully a lifetime,"  Scales said.
Students are literally seeing the big impact they can make by donating blood.
"It's kind of weird because it's like that blood was inside of me at one point," sophomore Montserrath Damian said. "It's kind of like they'll have a tiny part of me."
According to Anderson, the goal for the upcoming spring is to surpass the amount of blood donated last spring.
"Last spring, I think we had 84 units donated, which is pretty awesome, the highest that we've ever had. So we're hoping to beat that this coming spring,"  Anderson said.
The blood drive allows students to donate without having to pay out of pocket. The only cost to donating blood is time and a slight sting of a needle.
"For students especially, they usually don't have a lot of extra income to give away to donate to people, but the blood drive is the time to go, to help others without having to spend that money," Anderson said. "It's just a little bit of time and a little bit of blood and a way to give to help save lives."