Eleven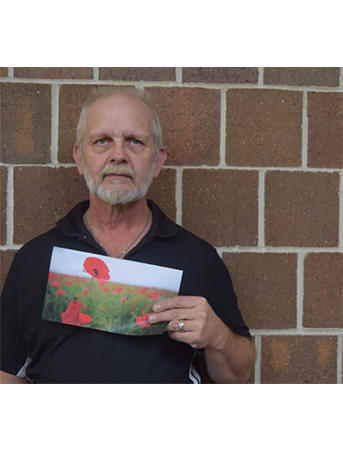 On the eleventh day of the eleventh month in the eleventh hour, World War One officially ended. Now, it is that time during which U.S. citizens remember those that have given their lives and time in the service of the military.
"They called it the war to end all wars,"said janitor Jim Douthitt, who served in the Air Force as an administrative specialist. "That's something that means a lot to all of us veterans."
Veterans Day is a long-standing tradition in the U.S. It was originally titled Armistice Day in 1938. It is a time during which American citizens are asked to "honor and thank all who served in the United States Armed Forces," according to the U.S. Department of Veterans Affairs.
"It's so important to recognize veterans," said sophomore Emma Jameson, whose father recently retired from the Navy. "It's a huge sacrifice for them to serve our country, but they do it and they do it for us. They do it to protect our rights."
Veterans Day is often symbolized by the poppy, a small red flower that was the only thing to grow on Flanders Field after World War One. It is also a sign for Memorial Day and sacrifice, as it's red coloration represents the blood spilled by veterans.
"The poppy: It's a sign of war, a sign of loss, and a sign of peace," Douthitt said. "But most especially it's a sign of remembrance; for those who didn't come back. It's a sign that they are not forgotten."
According to Douthitt, Veterans Day is also a time to recognize a veteran's sacrifice, which often comes with an extreme mental toll.
"PTSD has just come around within these student's lifetime but it's existed since the first wars," Douthitt said. "The trauma of battle, the trauma of losing somebody, the trauma of having to kill somebody. It takes its toll, so if you can get those who've been in war to talk to you then [you should] listen. You'll hear things that'll shock you and you'll hear things that'll make you real proud."
Douthitt wishes that more students would listen to veterans and try to learn lessons from them.  
"I want people to listen to veterans, I really do. You can learn a sense of pride, a sense of commitment from them. A sense of being something bigger than yourself," Douthitt said. "When you're in the military you have a huge family, all five branches, and we're all there for each other. We have camaraderie for those who fought beside us, and for those who didn't come back. Students should see that bigger picture of what we as a whole community can do and what our responsibility is within it."
According to Jameson, it is also important to understand what serving your country means.
"I think that a lot of people don't really recognize veterans for what they actually do," Jameson said. "They think serving only means that you sacrifice your life but it's a lot more than that. It's an honor and a sacrifice to serve. I am so proud of my dad for what he has done, and I know how scared I was whenever he got deployed so I can't even imagine what it's like for the veterans themselves."
For Douthitt, Veterans Day is an emotional and important time to recognize not only himself but also his comrades, whom he spoke about with tears in his eyes.
"Veterans will always give the ultimate sacrifice," Douthitt said. "We do it because we love our country, because we want to defend what has been created here. To have a day to recognize Veterans and give them thanks, it means a lot."