Griffin Grounds teams up with Art Club
November 14, 2016
As of Jan. 13, the mural is now on display in the Griffin Grounds cafe. It is the culmination of nearly four months of work.
This mural incorporated different designs of students from Art Club and was then combined into one big piece.
"We came up with the design from each art club member drawing out their own ideas for the mural," art teacher Heather Sulzen said. "We then looked at all of them together and decided what parts we liked best from the drawings. We cut out our favorite parts and glued them down on one. We spent the next day all coloring copies of the chosen drawing and then we did the same thing, cut out our favorite parts of the colored drawings and added them to one."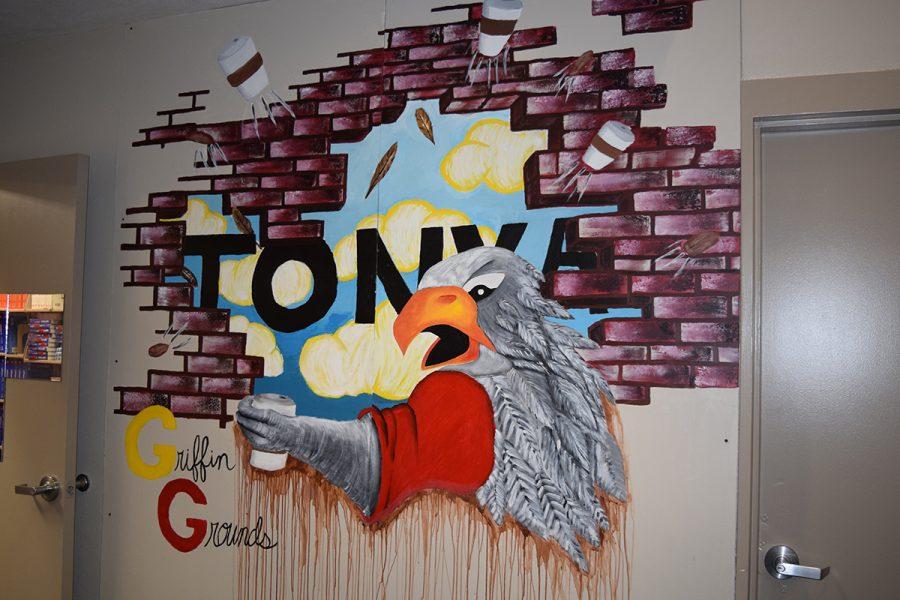 The Art Club has worked every Tuesday and Wednesday after school since September.
"I've spent three or four weeks working on this and it still needs to be finished," junior Matthew DeHass said. "We want it to look good. We keep going over things to make sure the lines are crisp."
The mural provides an opportunity for students outside of Art Club to contribute and join the open club.
"This will certainly bring more attention to art club because a lot of people get their coffee from Griffin Grounds," DeHass said. "It helps bring together the different classes and people around the school."
After finishing design ideas, the most difficult part was figuring out what art club wanted the image to symbolize.
"The concept we all agreed on is an image of a Griffin busting through a brick wall with a coffee in hand, ready to take on the day's challenges," Sulzen said. "Behind him and through the brick wall is a blue sky and clouds. There are coffee beans also flying around the Griffin and we are painting the name of the coffee shop, 'Griffin Grounds' on the bottom."