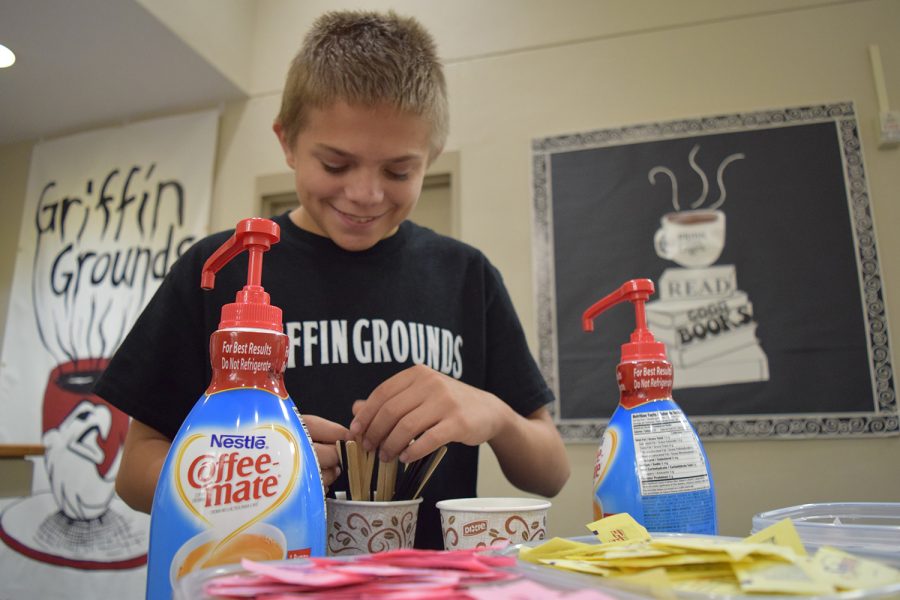 Rachel Adamson
Griffin Grounds is the new coffee shop, operated by the special education students, that is gaining loyal customers thanks to its convenience and delicious coffee.


The plans for the coffee shop began last April but it officially opened Sept. 6.

However, the coffee shop is not finished; A mural created by the Art Club and an improved coffee cart created by engineering students are both coming soon. Griffin Grounds is also providing several opportunities for organizations to collaborate. They are even working on new blends and new mugs for sale.
The coffee shop's purpose was to raise funds to contribute to the incentives and rewards for good behavior such as the monthly drawings for the Miss School Miss Out attendance program. Not only is it raising money for students, it is also providing a work skills training incubator for the school's special education students. Assistant principal Dwayne Smith was one of the many people involved in combining the two purposes into what is now Griffin Grounds.  
"The idea came up last spring when I visited Shawnee Mission West High School because we were trying to find a way to fund our positive behavior support program in the school," Smith said. "Specifically, how do you recognize kids for doing the right thing? The thought process was if we sell coffee, students and staff are spending money in a way that we can reinvest back into the school."
Special education paraprofessional Dale Brown also had a big part in carrying out the idea. He said Griffin Grounds provides students and faculty with an efficient alternative.

"When we looked around we saw the kids who were buying QuikTrip [coffee] and things like that," Brown said. "This is a higher quality product at a better price along with delivery."
According to Brown, the process of making Griffin Grounds become a reality was not a simple one.
"There were quite a lot of meetings just getting it off the ground and getting it planned," Brown said.
The money made by Griffin Grounds will go to the school district until the loan is paid off then Smith plans to put the rest of the earnings towards rewards.
"We had to take out a $3,000 dollar loan from the school district to buy the coffee machines, coffee cups and supplies. Then as students and staff are buying coffee, we have to pay the school district the money we initially invested in the equipment and supplies," Smith said. "Once that's paid off we're going to start providing the students who are doing the right thing with rewards."
Junior Gabby Mathews considers herself a regular at Griffin Grounds and says the coffee shop is an easy way to get a warm beverage at school.
"I think that it's a nice way to get coffee and hot chocolate for school," Mathews said. "The people who run it are so nice and courteous. Sometimes they remember your order if you're a daily person."
Mathews values Griffin Grounds convenient service throughout the school day.
"I think that students who can't drive that want to get a drink in the morning can get that and it makes it easier to get coffee or hot chocolate whenever they're already here at school," Mathews said. "They can get passes and go during class or passing since it doesn't take too long."
Smith feels the coffee shop has many benefits to the school and everyone in it.
"With the special needs kids, it allows them to create peer-to-peer relationships and it allows the students to have a positive interaction amongst each other," Smith said. "It affects the culture of the building in a positive way."