The growth of Griffin Grounds
Coffee shop connects students and clubs toward common cause
November 14, 2016
Griffin Grounds is the new coffee shop, operated by the special education students, that is gaining loyal customers thanks to its convenience and delicious coffee.


The plans for the coffee shop began last April but it officially opened Sept. 6.

However, the coffee shop is not finished; A mural created by the Art Club and an improved coffee cart created by engineering students are both coming soon. Griffin Grounds is also providing several opportunities for organizations to collaborate. They are even working on new blends and new mugs for sale.
The coffee shop's purpose was to raise funds to contribute to the incentives and rewards for good behavior such as the monthly drawings for the Miss School Miss Out attendance program. Not only is it raising money for students, it is also providing a work skills training incubator for the school's special education students. Assistant principal Dwayne Smith was one of the many people involved in combining the two purposes into what is now Griffin Grounds.  
"The idea came up last spring when I visited Shawnee Mission West High School because we were trying to find a way to fund our positive behavior support program in the school," Smith said. "Specifically, how do you recognize kids for doing the right thing? The thought process was if we sell coffee, students and staff are spending money in a way that we can reinvest back into the school."
Special education paraprofessional Dale Brown also had a big part in carrying out the idea. He said Griffin Grounds provides students and faculty with an efficient alternative.

"When we looked around we saw the kids who were buying QuikTrip [coffee] and things like that," Brown said. "This is a higher quality product at a better price along with delivery."
According to Brown, the process of making Griffin Grounds become a reality was not a simple one.
"There were quite a lot of meetings just getting it off the ground and getting it planned," Brown said.
The money made by Griffin Grounds will go to the school district until the loan is paid off then Smith plans to put the rest of the earnings towards rewards.
"We had to take out a $3,000 dollar loan from the school district to buy the coffee machines, coffee cups and supplies. Then as students and staff are buying coffee, we have to pay the school district the money we initially invested in the equipment and supplies," Smith said. "Once that's paid off we're going to start providing the students who are doing the right thing with rewards."
Junior Gabby Mathews considers herself a regular at Griffin Grounds and says the coffee shop is an easy way to get a warm beverage at school.
Hayden Weatherman
"I think that it's a nice way to get coffee and hot chocolate for school," Mathews said. "The people who run it are so nice and courteous. Sometimes they remember your order if you're a daily person."
Mathews values Griffin Grounds convenient service throughout the school day.
"I think that students who can't drive that want to get a drink in the morning can get that and it makes it easier to get coffee or hot chocolate whenever they're already here at school," Mathews said. "They can get passes and go during class or passing since it doesn't take too long."
Smith feels the coffee shop has many benefits to the school and everyone in it.
"With the special needs kids, it allows them to create peer-to-peer relationships and it allows the students to have a positive interaction amongst each other," Smith said. "It affects the culture of the building in a positive way."
Beyond the coffee
Special education students run and profit from new Griffin Grounds coffee shop
Behind every order of coffee from Griffin Grounds there is a story, a student. A student like freshman Caleb Smith, who is not that different from everybody else despite the fact that he is in a special education class.
"Being in a SPED class helps me a lot," Smith said. "I struggle if I'm in a big crowd with other kids who are acting up because I get overwhelmed and then I start doing that."
Smith has been working at Griffin Grounds since the coffee shop opened two months ago in the library.
"It's really fun to work there. I get to have more conversations with people which is cool because I'm a really friendly person and I love talking to everybody but it's something I just don't really get the chance to do all the time," Smith said.
Special education paraprofessional Larry Magariel has seen a change in his students' behavior since they have started working at Griffin Grounds.
"It's teaching kids how to interact with other kids who are in the mainstream," Magariel said. "It's helping them to communicate better, they feel more at ease."
Sophomore Destiny Fossett, who has been working alongside Smith since the opening of Griffin Grounds, agrees that being able to meet new people is the best part of working there.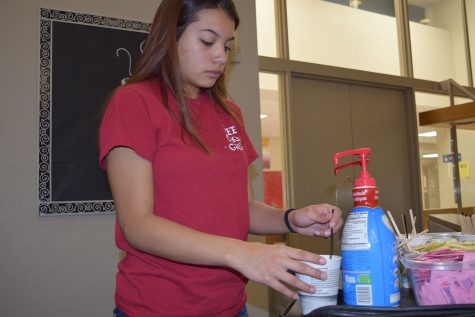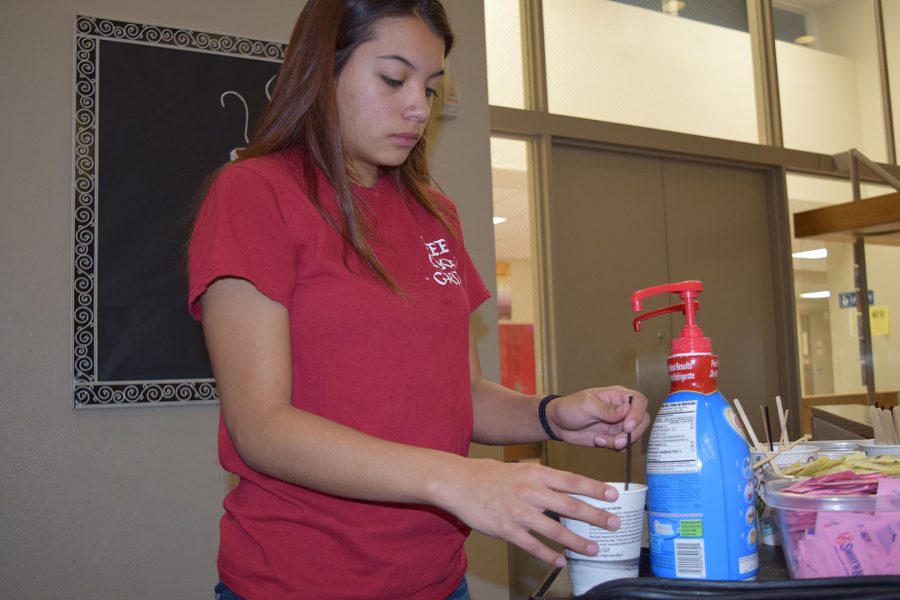 "We get to communicate with other students in the school and make friends with them which is really cool," Fossett said. "We also make and deliver all the coffee orders."
Griffin Grounds is more than just a coffee shop, it is also an integral part of the special education department's funding and a deciding factor in the opportunities that are awarded to students within the department.
"We got to go on a field trip last week, rollerskating, because of money we got from the coffee shop," Fossett said. "It was really fun. Getting to work at the coffee shop teaches us how to work and then it lets us do other things that we or the school or our teachers want us to do."
Senior Cayla Adamson also works at the coffee shop. She is one of just two students who work there that do not take special education classes, although she enjoys visiting the special education classrooms.
"I love spending time with them [students in the special education program]," Adamson said. "It's really nice to be able to step out of my stressful school life and just  go to them. When I see them they come up to me and give me hugs. Whenever I walk into the SPED room it's like walking into another world. They're the nicest, most loving people in the world."
Adamson is not alone. According to Magariel more and more students have begun to take an interest in the special education department.
"Students are talking to them in classes now, talking to them in hallways," Magariel said. "They come by [Griffin Grounds] in the morning and just sit down with them."
According to Adamson, students within the special education program do not get the recognition they deserve.
"I feel like Tonka has looked at these students and stereotyped them as dumb, but they're not, they're very intellectual," Adamson said. "I feel like we think that they're weird or don't like us or can't relate to us but it's not like that at all. They're nice, they're loving, they're really funny and they talk like crazy. They're just like us except a thousand times nicer."
Smith himself said that he has felt the effects of generalizations about students in special education classes.
"I wish people would be more comfortable around us, that they'd be nicer because we're just like everyone else," Smith said. "I mean we really do struggle to blend in with everyone, so it's kind of hard on us when people make fun of that and think we don't notice because we do notice, but we just can't change even if we're trying our best."
But according to Smith, Griffin Grounds may be helping to change that false perception.
"Now that I work [at Griffin Grounds] people have been nicer. They say hi when they see me in the halls," Smith said. "I think they're starting to realize that I'm friendly, I like to talk, I'm just like them."
Fossett has also felt the effect of Griffin Grounds since she started working there.
"I think students are treating us a little bit nicer since the coffee shop opened than they used to," Fossett said. "They're realizing that we're the same as them."
For Adamson, the impact of the coffee shop on Tonka's student population is clearly visible.
"They used to be kind of like outcasts. They didn't really have any friends outside of each other because no one paid them attention, but Griffin Grounds is changing people's perception," Adamson said. "This coffee shop has opened up doors for the SPED kids because it gives them the chance to communicate with other people throughout the school. They're finally seen. They run the front desk and interact with all the students and staff and have daily conversations with them. Tonka is finally beginning to see that these kids are more than just 'SPED students.'"
Adamson, Fossett, Magariel and Smith all have the same wish, for more students to start conversations with those in special education classes and for not only Tonka but also the rest of the world to see these students for who they really are.
"I think Griffin Grounds is helping Tonka students see them for the first time," Adamson said. "I think it's showing us that they are not their disability, that they're just like you and me."
Griffin Grounds teams up with Art Club
As of Jan. 13, the mural is now on display in the Griffin Grounds cafe. It is the culmination of nearly four months of work.
This mural incorporated different designs of students from Art Club and was then combined into one big piece.
"We came up with the design from each art club member drawing out their own ideas for the mural," art teacher Heather Sulzen said. "We then looked at all of them together and decided what parts we liked best from the drawings. We cut out our favorite parts and glued them down on one. We spent the next day all coloring copies of the chosen drawing and then we did the same thing, cut out our favorite parts of the colored drawings and added them to one."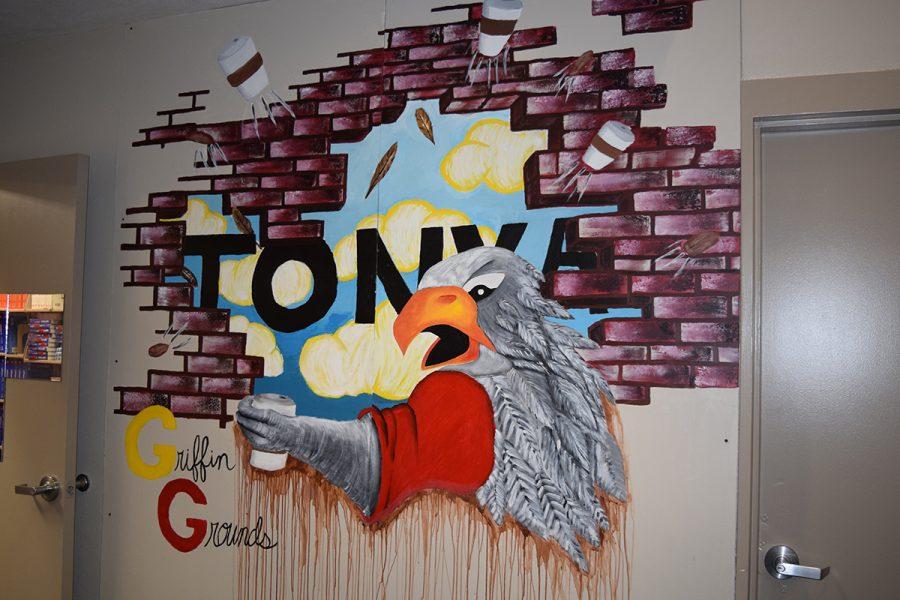 The Art Club has worked every Tuesday and Wednesday after school since September.
"I've spent three or four weeks working on this and it still needs to be finished," junior Matthew DeHass said. "We want it to look good. We keep going over things to make sure the lines are crisp."
The mural provides an opportunity for students outside of Art Club to contribute and join the open club.
"This will certainly bring more attention to art club because a lot of people get their coffee from Griffin Grounds," DeHass said. "It helps bring together the different classes and people around the school."
After finishing design ideas, the most difficult part was figuring out what art club wanted the image to symbolize.
"The concept we all agreed on is an image of a Griffin busting through a brick wall with a coffee in hand, ready to take on the day's challenges," Sulzen said. "Behind him and through the brick wall is a blue sky and clouds. There are coffee beans also flying around the Griffin and we are painting the name of the coffee shop, 'Griffin Grounds' on the bottom."
New to Griffin Grounds: mugs and special blends
After one semester, Griffin Grounds is now expanding their selection size to include custom made coffee mugs, and a signature blend.
Special Education Paraprofessional Larry Magariel, who works in the coffee shop alongside students, hopes that the new blend along with the mugs will attract more students and spread the word about the shop.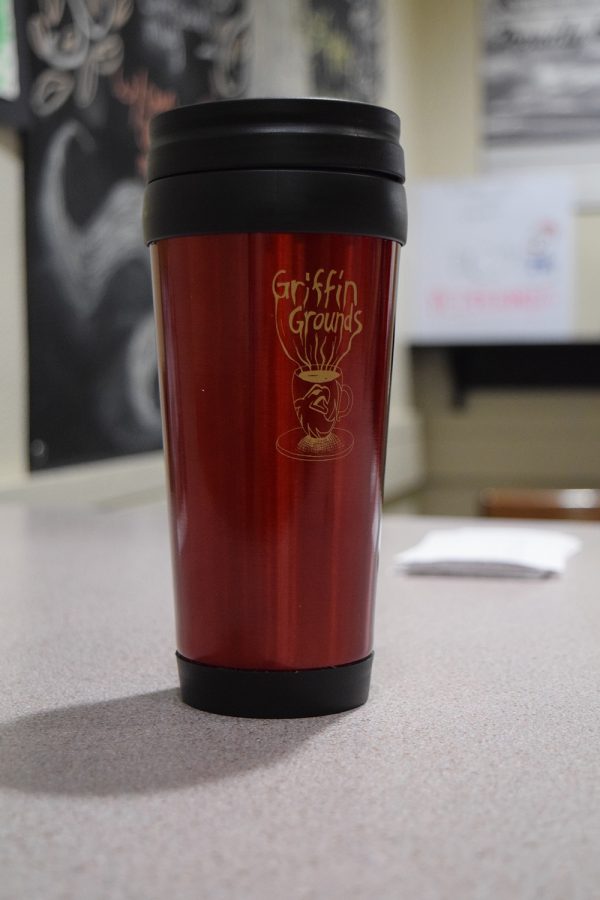 "A lot of young people that come in here are our major customers, but they get the dark blend and are pouring tons of creamer into it," Mageriel said. "They want more of a medium blend where they get more of the taste of the coffee opposed to the real strong coffee or the light coffee blend."
In order to target those students tastes in coffee, Mageriel recently went to the Roasterie, an area coffee manufacturer, to taste-test and create a signature 'Griffin Blend' for Griffin Grounds.
"It is a combination of Brazilian, Ethiopian and Colombian, so it's a mixture of three different things as opposed to just two," Mageriel said. "So it has the medium taste but it's still flavorful. Our customers favorite blend is the KC Blend and it's very similar to that but it's just got a bit more flavor."
The new blend was released on Tuesday, Jan 17. Students can also purchase new custom designed mugs to put their coffee in.
"The art department designed the logo for the cups," Mageriel said. "They're a really good deal, because the mugs are 14 oz. and our regular cups are 12 oz. but refills on these cost the same amount, so you're getting a little bit extra."
The 14 oz. mugs cost $10 and comes with one free refill. The mugs are available in red and silver and are dishwasher safe.
Griffin Grounds goes mobile
The engineering design and development class are contributing to build a cart for the Griffin Grounds coffee shop.
Special education teacher Dale Brown pitched the Griffin Grounds cart idea to engineering teacher Nicholas Schwieder so that Griffin Grounds can go mobile. Instead of always being upstairs, now it will also be in the lunchroom once a week. Schwieder found use of this idea.
"My seniors were trying to come up with a good project for the year so we just kind of put two and two together and decided that one of my projects for my seniors would actually be this project," Schwieder said.
According to Schwieder, the cart will make delivering easier for the people who work at the coffee shop.
"They can easily move their counter to the cafeteria so that I think once a week they can sell coffee during lunch time," Schwieder said.
Senior Michael Armendariz and senior Jessi Mizner claim that the cart will be made from scratch.
"We haven't decided on which materials yet but we are looking at laminated wood and metal tubing," Armendariz said.
Armendariz says the cart will have a cash register and a place to order drinks including a display of many flavor shots to add to the coffee.
"We hope to have it somewhere around seven feet long so there will be a lot of space to work," Armendariz said. "You should be able to get out coffee a lot quicker than we were previously able to upstairs."
According to Armendariz, the only challenging part of this project is making sure that the project gets done in time.
"Overall, it's not going to be too difficult of a project," Armendariz said.
Armendariz and Mizner hope to have the mobile cart done by the end of January so that everyone can enjoy it.
"We normally have all year for our project for the class but since my partner and I are making it for Griffin Grounds we have an accelerating timeline," Armendariz said. "We hope to be building in the next couple of weeks."  
School coffee shop jumpstarts students' attitudes
Review: Griffin Grounds coffee shop
The idea of a coffee shop being in a high school may seem strange and out of place to some, but provides a boost in attitudes and energy in staff and students alike.
All coffee lovers will appreciate the coffee at Griffin Grounds because it gives the option of three perfectly blended roasts from "The Roasterie." Those who like it simple will enjoy the smooth texture of the Kansas City blend, but those who are daring with their choices will fall for the boldness of the Full Vengeance dark blend.
Griffin Grounds also appeals to those who are not fans of the bitter taste of coffee with other options available such as hot chocolate and apple cider. Although there are no "fancy" lattes, one can still enjoy the coffee by adding a flavor shot such as vanilla, hazelnut or caramel. The coffee shop also keeps trendy by adding flavors like the oh-so-popular pumpkin spice.
Loading ...
By having a coffee shop in the school building, students and staff are able to get to class faster and spend less money out of their wallets. Students do not have to worry about stopping at the nearest Starbucks and risk waiting in long lines that will prevent them from getting to school on time. The students who work in Griffin Grounds always ensure that the line keeps moving and people get their drinks in record time.
Adding to this convenience, Griffin Grounds also delivers orders during the first two blocks and intervention to those who did not have the time to order in the morning, or for those need an energy boost.
For the price of one Starbucks coffee, students are able to get two coffees at Griffin Grounds at the low price of one dollar. Also, students are able to bring in their own oversized coffee cup and add flavor shots are only 50 cents more. At these rates, Griffin Grounds coffee prices are an absolute steal.
Some may criticize a coffee shop as too much of a luxury for ordinary high school students. It is certainly an amazing opportunity for special education students to practice applicable skills that will aid them after graduation. In this case, luxury is a necessity.
By having the special education students run Griffin Grounds, students are able to engage and interact in ways they were not able to before. This creates a school population filled with appreciation for those with disabilities rather than ignorance that seems to infect several schools.
Overall, Griffin Grounds provides high-quality beverages, superior service and creates an attitude-shifting atmosphere.
Griffin Grounds is worthy of an A.