New to Griffin Grounds: mugs and special blends
November 10, 2016
After one semester, Griffin Grounds is now expanding their selection size to include custom made coffee mugs, and a signature blend.
Special Education Paraprofessional Larry Magariel, who works in the coffee shop alongside students, hopes that the new blend along with the mugs will attract more students and spread the word about the shop.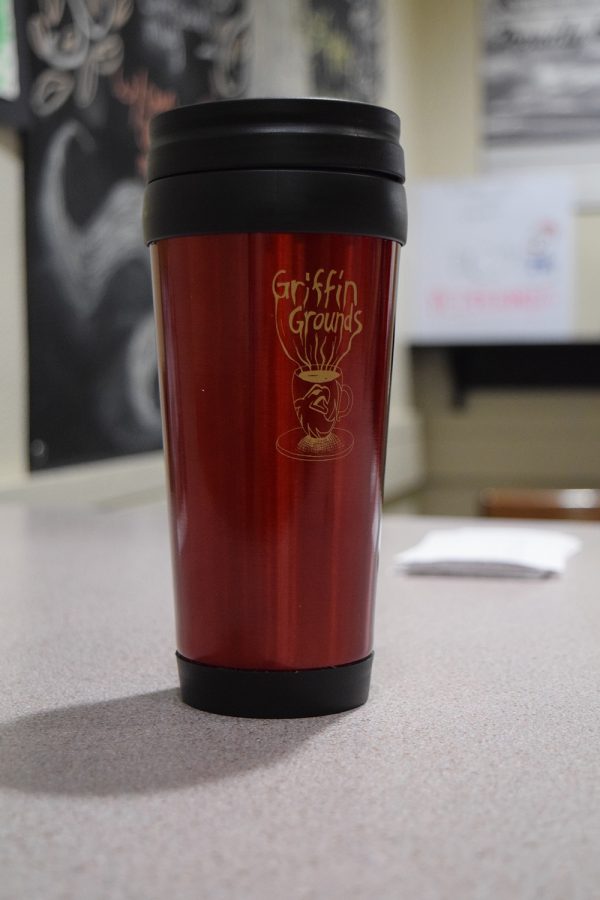 "A lot of young people that come in here are our major customers, but they get the dark blend and are pouring tons of creamer into it," Mageriel said. "They want more of a medium blend where they get more of the taste of the coffee opposed to the real strong coffee or the light coffee blend."
In order to target those students tastes in coffee, Mageriel recently went to the Roasterie, an area coffee manufacturer, to taste-test and create a signature 'Griffin Blend' for Griffin Grounds.
"It is a combination of Brazilian, Ethiopian and Colombian, so it's a mixture of three different things as opposed to just two," Mageriel said. "So it has the medium taste but it's still flavorful. Our customers favorite blend is the KC Blend and it's very similar to that but it's just got a bit more flavor."
The new blend was released on Tuesday, Jan 17. Students can also purchase new custom designed mugs to put their coffee in.
"The art department designed the logo for the cups," Mageriel said. "They're a really good deal, because the mugs are 14 oz. and our regular cups are 12 oz. but refills on these cost the same amount, so you're getting a little bit extra."
The 14 oz. mugs cost $10 and comes with one free refill. The mugs are available in red and silver and are dishwasher safe.