The Good Samaritan
On Sept. 11, 2016 Joshua Owen was in his car at a Wal-Mart in Shawnee Mission. All of the sudden, he heard a lady screaming and rushed to the rescue without thinking twice. He tackled the attacker and when they got back up, he got shot three times; once in the face, once in the wrist and once in the shoulder.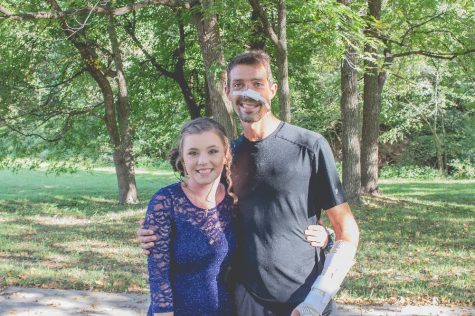 The daughter of Owen is sophomore Halle Clapham. Clapham recalls where she was when she found out the news.
"I was at home and my dad had called my mom right when it happened to tell her that he loved her and that he loved me," Clapham said. "He didn't know what else to say. He was just trying to focus on breathing."
Clapham and her mother quickly rushed to get by his side, thinking it was the last time they would see him alive.
"He thought he was dying," Clapham said. "So me and my mom drove as fast as we could because we wanted to see him."
Clapham has been very stressed about going to school and leaving her dad.
"I always want to know what's going on with my dad," Clapham said. "It's kinda hard sometimes trying to focus on all my work."
Owen was in the military for four years. He had joined shortly after the 9/11 terrorist attacks.
"He really did like being in the military and he knew what he was fighting for," Clapham said. "I think him being in the military gave him more confidence to go and help the lady."
There is a gofundme page for Owen and his family. Their original goal was $100,000 but they have now reached over $142,000.
"My aunt set it (gofundme page) because with these types of things, since it was a trauma, the bills are gonna be huge," Clapham said. "He has to have plastic surgery for his face and he's already had multiple surgeries. I don't know how many more he's gonna have to do."
Clapham was relieved on how much they had received in donations. 
"It's one stressor we don't have to worry about," Clapham said. "We already have him that we need to take care of."
Clapham wanted to give advice to others who are or might go through a similar situation.
"I know it's hard but try to stay focused," Clapham said. "Find someone to talk to because you're gonna need it, whether that be a family member or a counselor or a friend. Find someone to talk to because you don't want to keep the feelings in."