The FIRST Competition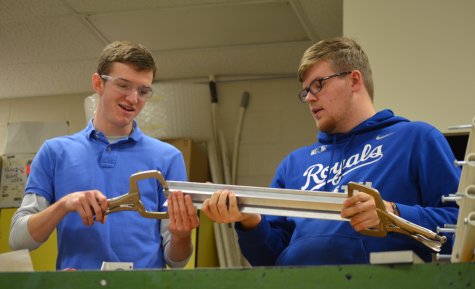 With only two years of experience, the robotics team hopes to rise to the top at regionals.
Robotics is a club that involves computer science, electrical engineering, and mechanical engineering. It is a way to allow students to contribute to all of engineering.
"There's so many different aspects of it; build and design, business and marketing and then there's promoting things," junior Essence Jewel said.
The business and marketing side of the team are working hard to compile as many sponsors as possible to help pay for the robot's parts and competition because the district will no longer be funding them.
"We're loosing a lot of funding that the district was providing us for the past few years, so we're really work to try to get new sponsors so we can be a sustainable program," robotics coach Brice Jensen said.
With FIRST (For Inspiration and Recognizing of Science and Technology) competition coming up and deadlines approaching, the club takes the little time they have seriously from fundraising to building the bot itself.
"Don't come into robotics and be a total waste of time. It's time to work and we're on a time crunch. If you want to come and work, work. If you want to play, don't come," senior Sam Klaus said.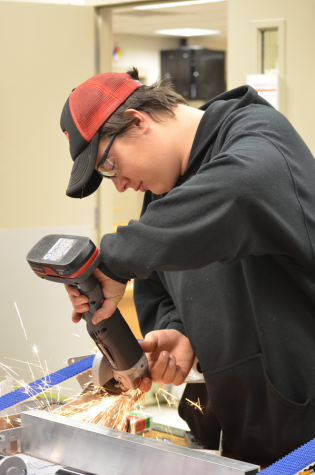 They started building the robot on Jan. 9 and robot was bagged and tagged on Tuesday Feb. 23 to go to the competition.
"On the first day of kick off which is the first Saturday in January, we stay back while others go to certain places to get parts and we watch the kick off video and download the game manual and print it off. Then we study it [the manual] for the first few hours. Then we coope
rate with the building team on a simple design for the base, and we got through what are the most important things are in the game. This year we decided it was the obstacles and scoring high and low goals, so we
are trying to focus our designs on those certain things," Jewel said.
The FIRST competition will be held at Metropolitan Community College on March 10, 11 and 12.
"We hope to be first place in our competition but beyond just winning, we want to make sure we can allow our Winnetonka student members to be able to apply maybe everything they have learned and be able to apply it in the real world with their expertise," Jensen said.