Robotics rushes to finish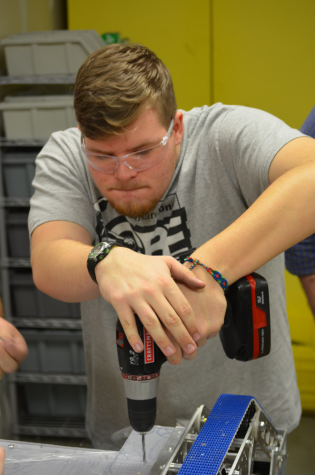 PRIDE Robotics must stop the building of their robot by Tuesday, Feb. 23.
They started building the robot on Jan. 9, and have had six weeks to build a robot that can gain the most points in the competition.
PRIDE Robotics competes in the For Inspiration and Recondition of Science and Technology (FIRST) Robotics Competition's every year. This year the compaction is FIRST Stronghold, a medieval times inspired course.
This competition requires the robots to traverse nine obstacles, maneuver around other robots and shoot 'boulders' (foam balls) to break down the opponent's walls and capture the castle.
PRIDE Robotics has made their robot able to combat almost all of the nine defenses with the use of tank treads.
"This year we are using tank treads to get an advantage on others because we will have single track drive. We won't get caught between spaces in wheels, but we will have trouble turning sideways if we do get turned sideways," senior Sam Klaus said.
With only hours remaining the build team is cautiously optimistic about their chances in the competition.
"Hinging on what is wrong with the bot right now I would say that we have a shot to do well at competition," Klaus said.
The FIRST Robotics Competition is on March 10, 11 and 12.