Hammer the Grammar visits for encouragement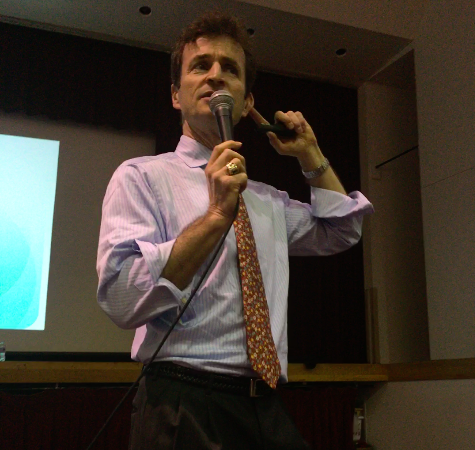 The stakes were set as ACT tutor John Baylor came for a surprise visit on Tuesday Feb. 6 to pump up the sophomores and juniors beginning his ACT prep study sessions.
Due to last years' juniors practicing this form of ACT study, many have gravitated towards higher scores. Some students received a score five or more points higher than the previous fall score, placing them into the Five Point Jump Club.
"I paid for an ACT tutor and I got a better score with John Baylor's help rather than the tutors," senior Alexandra Mehlhaff said.
John Baylor, being a role model to most throughout the school, many students were enthused to see him in flesh before them. Whether they had been through the prep class study sessions or are just beginning, the auditorium was filled with smiling faces.
"You guys are so cool. There is so much energy here and there's so much desire to achieve. Apathy is a problem across our country, but I didn't see much of that here at Winnetonka," Baylor said.
Baylor gave a speech regarding the importance for the ACT and pushing oneself to college during intervention for students to sit and listen to.
"What the speech today was, and what your teachers are trying to do today, is to create a picture of a much easier adulthood due to a four-year college degree and minimum debt. Hopefully younger people will agree to doing their homework and not being the knuckleheads and causing a disrupted environment because they see the picture of a brighter future," Baylor said. "You guys get it. Not everyone, there were some slackers, but for the most part, you guys get it. The slackers are going to pay a price and society is going to pay a price for not living up to the fullest potential."
With the John Baylor program continuing to rise, Baylor hopes to encourage students of all ages to become motivated for school and their future by improving their ACT score.
"Our mission is to help families and schools support students to go towards a four-year college and to do that we ask kids to be disciplined," Baylor said. "Discipline and success are correlated, so why are most people not disciplined? Discipline requires extra effort today for a pay off tomorrow."
Most juniors are becoming fired up to begin John Baylor ACT prep to prepare them for the next state wide ACT in April.
"When I saw the cardboard cutouts of him [Baylor], I thought about how that just brought Tonka's pride to a whole new level," Mehlhaff said.
The juniors' ACT prep courses will begin in the next couple weeks throughout intervention up until the test, similar to last year's juniors.