Opinions uploaded to The Cloud
National election 2016 update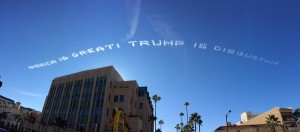 Around six skywriting planes, with pilots still unknown, tested their freedom of speech, according to CNN.

They spelled out opinionative sayings in the sky above the spectators' heads towards the end of the 127th annual California Rose Parade, on New Year's Day 2016.

The displayed skywriting targeted 2016 presidential candidate Donald Trump and read: "America is great! Trump is disgusting," and also "Anybody but Trump. Trump loves to hate. Anybodybuttrump.us Iowans dump Trump."

True freedom of speech has always been a kindler to turmoil in the nation of the supposedly unrestricted.

"I think that people should be entitled to their opinion in their own way; I don't think they should show it into other peoples' personal thinking," senior Ashley Holm said. "People don't want other people thinking differently from them, so that's why they target him [Trump] so harshly."

It is a lingering thought about the kind of affect this political rebellion had on the spectators of the Rose Parade.

"That's their [the skywriters'] own way of living life; that's their form of freedom of speech," senior Kristen Manthei said. "It was probably pretty disruptive to those who like Trump or those who have no political affiliation, but I feel like some people would just wonder why it was there and move on with their day."

The identity of the skywriters may be discovered through the link addressed in part of the writing. Their direct attack on Trump though, is not a surprise to community citizens.

"I think they single out Trump mainly because we've seen his successes and failures throughout time and people have very strong opinions on him one way or another, however when it comes to other political candidates, they aren't as widely known," Manthei said.