School cancelation for Royals celebration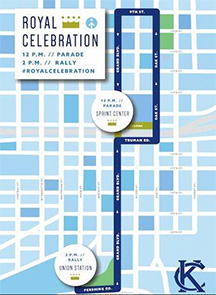 On November 3, the North Kansas City School District will cancel classes due to the Royals World Series Championship celebration.
At the end of the school day, principal Matthew Lindsey announced that school would be canceled.
"I think that we made the right call because our student attendance would have been very poor," Lindsey said.
The North Kansas City School District had a lot of pressure put upon them throughout the day with students and staff requesting the day off. There was even a petition sent to the Governor of Missouri requesting that Missouri schools be canceled.
"What we had happen was probably a calculated design by our district to make sure we appease the public," Lindsey said.
November 3 will be treated as a snow day and added to the end of the school year.
300,000 people are expected to attend the celebration. The band will also be marching in the parade. Mr. Lindsey requested that everyone stays safe.
The parade will start at 12 p.m. in front of the Sprint Center and end in front of Union Station. The Royals rally will begin after the parade located at Union Station.