Softball is all about that base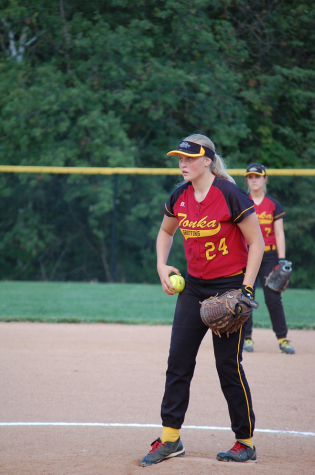 This year's junior varsity softball team won their first game in two years.
Winnetonka defeated Raytown South by three points leaving the score 11-8 on Aug. 24.
Many of the players on the team are noticing the improvement they have made this season.
"We've improved score wise and winning more games, but we've also improved with our bonds and our support system," junior Tatum Thowe said.
Although the junior varsity team has improved, senior Lauren Scott believes they will always have room to advance.
"The seniors know what they are talking about, so when they say do something, do it because they would never steer you in the wrong direction," Scott said.
Scott has faith in the team and wants them to remain having positive thoughts.
"Something I always tell myself is to control the controllable, and remember if you make an error on the field the next play is coming to you so you better kick some dirt and move on," Scott said.
Head junior varsity softball coach, Lauren McMinn, has also seen growth in the team.
"One major improvement on the team that I see from the beginning of the season to now is that the girls know where they need to go with the ball when it is hit to them," McMinn said.
Although the team has not won every game they still focus on the progress and friendships they have made.
"What keeps me motivated is I don't want to let anyone else on the team down. We are all a team and if one loses, we all lose as a team," Thowe said.